This would have to be one of the most asked questions of our music teachers at Inner West Institute of Music. Unfortunately, there is no definitive answer, as it really does depend on the willingness and development of the child as well as the time your family has available to commit to lessons and practice.
The general guideline that we like to give parents for introducing music classes to your child is as follows:
| | |
| --- | --- |
| Age | Recommendation |
| 0-4 years | Early childhood music classes |
| 3-8 years | Pre instrumental classes |
| 5 + | Private instrumental lessons |
Obviously, some children show natural talent and interest in playing a particular instrument earlier than 5 years, and some children prefer to stay with pre-instrumental classes beyond 7 years. The important factor to remember is that every child is different.
Early childhood music classes
Bluebell Music operates Mums and Bubs classes for parents and carers of 0-3 years from our Five Dock and Balmain studios. During these early years, the focus is on the enjoyment of music through listening, singing, moving and improvisation.
Pre-instrumental classes
Music lessons for 3 to 8-year-olds focus on preparation for solo instruments in a fun environment. Children should have access to percussion instruments and start to develop their understanding of pitch, beat, form, and tempo. Once a child shows interest and developmental ability, then they can progress to private instrumental lessons. Bluebell Music will also be offering these classes in our Balmain studio from 2019.
Instrumental lessons
So, what is that defining moment when you realise that it's time to learn a solo instrument? It will be different in every child, however, there are some ways you can identify that it might be time.
1. Can identify letters
Darius Kaperonis, one of our violin and viola teachers notes that young students should be able to identify letters prior to starting. "Young students need to understand the concept of relating a written note to both a letter of the alphabet and a specific pitch. They also need to understand how these notes relate to one another in a piece and also how the notes relate to specific fine motor skills and body mechanics."
At Inner West Institute of Music, we still teach many children who are unable to identify letters. Our skilled music teachers spend time during the lesson helping many children with this aspect of learning an instrument, however, the progression tends to be a little slower at the start.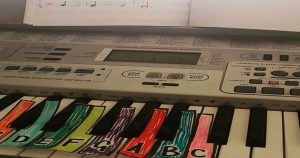 2. Be able to physically hold an instrument
Some instruments such as a saxophone or flute may require the child to be a certain size before playing. Leah Chiarella our saxophone teacher believes that 8 years old is a good starting point "as the saxophone can be quite clunky to hold, position fingers and maintain good lung capacity".
Likewise, flute teacher Clara Pitt notes that physicality may be a limitation when starting out on the flute. "If you are younger than 7, you may want to begin with recorder or fife.If you have quite small arms, it is best to start your flute playing with a curved head-joint until you can comfortably hold the standard flute."
Otherwise, many string instruments come in various sizes so even the smallest of students can begin learning straight away.
3. Parental guidance needed
Learning an instrument at any age involves a commitment for the entire family. At a young age, students need to be guided and reminded to practice, and adults need to be available to sit with them whilst practicing.
In this regard, cello teacher Julienne Guerbois identifies that it's also important that an adult is available at lesson time as well. "I think it's always important to have a parent present for the lessons so they know what to help their child with at home."
So, before you commit to lessons, make sure that you are available as support for your child.
4. Have a grounding in music (eg pre I classes or piano/guitar before flute/sax)
Exposure to music from a young age will also help any child learning a new instrument. With those instruments that can't be learned until the child is physically strong or big enough, this factor can be extremely important. Leah believes that "it is always great if they have had a musical kickstart with another instrument such as the piano or guitar. This makes progress a lot swifter as students won't have to worry about learning how to read, in addition to embouchure, breathing or finger placement"
5. They show genuine interest
Does your child ask questions about instruments? More specifically, have they asked about trying a particular instrument? Whilst we believe that music is the greatest gift we can give students, we also believe that there needs to be an underlying desire for the child to want to learn an instrument. We can explain the benefits to them and encourage them to love music and their instrument, however, if they want to play an instrument the progression will be much quicker.
There are a lot of factors that go into whether a child is ready to start music lessons. The important thing to remember is that introducing music lessons into their life is giving them every possible opportunity to grow and develop.
If you're wondering whether your child is ready for music lessons, feel free to contact <a href="https://innerwestinstituteofmusic.com/"> Inner West Institute of Music </a>. Together we can discuss whether your child is developmentally ready for solo instrument lessons.